Power Plant Safety
Electric power generation facilities can range from nuclear power plants and wind turbines, to coal burning facilities and hydroelectric dams. Each presents a unique combination of hazards.
Some of the worst workplace accidents in the past 100 years were at power generation plants, and historically, coal-fired operations have proved the most deadly for workers. Hazards include fires, explosions, and serious respiratory risks.
When mining operations first began in the U.S., deaths averaged 1,500 or more each year. Over time, increased safety efforts helped to reduce the number of deaths to now less than 30 fatalities each year, yet coal mining and coal burning factories still pose numerous risks to workers.
In March 2015, a fire and explosion in Xcel Energy's coal-fired power plant in Burnsville, Minnesota, sent one worker to the hospital and left three firefighters injured. The fire began in a smoldering coal bin, and lead to a blast that rocked the plant, shaking homes well outside the blast radius.
The facility's spokesperson, Patti Nystuen, noted that stored coal must be watered and monitored frequently because coal dust is so combustible. It's not clear how often the Burnsville plant's coal was being watered at the time, but to prevent further damage once the initial fire began, plant management shut down coal-fired boilers in the surrounding area.
Explosions at coal-fired power plants are a real danger. Safety precautions are critically important to prevent fires and other accidents.
Coal dust, hydrogen, and other gases pose the highest explosion risk in coal power plants. Whenever these hazards are present, all flame sources should be eliminated to prevent a combustion hazard, which is exactly what Xcel Energy did after the blast, only much too late.
Electrical Worker Training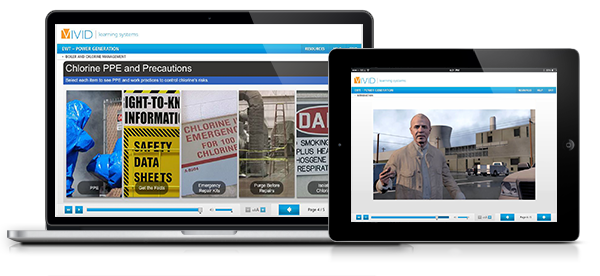 HSI's Power Generation 1910.269 course covers general safety practices for working in electrical power generation plants. It explains how to properly guard energized equipment and energized parts, and how to work around steam boilers, chlorine systems, coal, and ash.
Power generation plants pose an array of dangers, but there's no denying that the energy produced from power generation operations is vital to modern society and our way of life. Thankfully, risks associated with power generation can be mitigated through safe work practices. In the power generation industry, it's especially important for employees to be trained in controlling hazardous energy and working safely around special machinery.
It's important to note, though, that safety training offers no benefit to workers if they don't remember the content covered in the training. Course components like compelling visuals and 3D animation, as well as interactive practice exercises, help workers stay engaged and retain the information they learn.
With quality electrical safety training, the number and severity of accidents in the power generation industry can be greatly reduced.
Take a free, Online Safety Training course in Power Generation 1910.269 to learn more about this topic.